Vendredi, janvier 8th, 2010

Standard Podcast [32:35m]:
Play Now
|
Play in Popup
|
Download
In this first podcast of 2010, the interview with Chris Bailey from The Saints Part 2 with still more rock and roll and some lovely noises. We keep talking about Chris' music, life and projects for the new year with a few recordings ready to be released eventually under his own new label who knows ?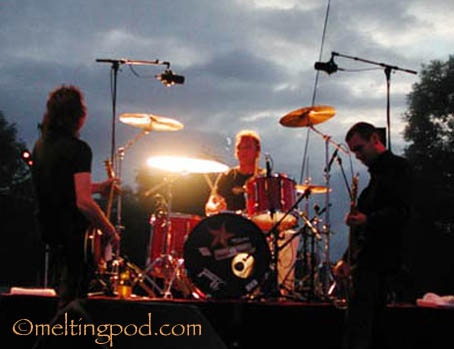 The Saints with Chris Bailey, Peter Wilkinson and Caspar Wijnberg in 2005 in France near Lyon at the festival Oulala
I started with a surprising and nice version from Nights in Venice proposed in one of Chris' last albums "Bone Box", then I played two melancholic songs "Bridges" (written in Berlin in 89 after the fall of the wall) and "Photograph" (from one of his solo albums "Encore" in 1995) which were in harmony with my current sadness after having learnt my friend Mick Cocks' (Rose Tattoo) death the last days of December; the day of Mick's funerals December 30th, another great and talentuous Australian musician passed away due to the same sickness (a bad liver cancer) : Rowland S Howard (The Young Charlatans with Jeffrey Wegener) The Boys Next Door, The Birthday Party, (with Nick Cave and Mick Harvey), These Immortal Souls (with Genevieve McGuckin, his partner in the life too) and a lot of other bands : it was pretty hard to want and sound happy, I'm sorry, I stayed true…and I will try to do something special for them later; now it's too hard for me.
But don't worry, I used some energetic Saints' songs like "Je Fuckin' T'aime" (Imperious Delirium 2006) "Erotic Neurotic" (Live at Paddingtown Hall in 77), and our mutual Swedish friend Lars Wallin's performance on the didgeridoo to keep the spirits high; I finished with "Just Like Fire Would" : a beautiful melody with dark lyrics though…
A luck Chris' talk was as funny as usual and I'm sure you will appreciate his Irish humor one more time !! : I wish you an Happy New Year with still more Love, Friendship and good Rock and Roll !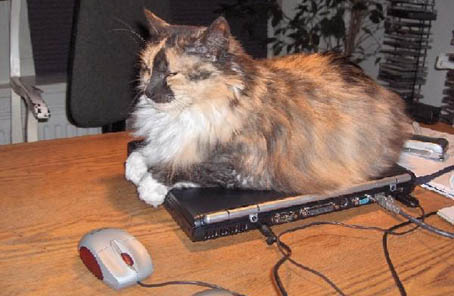 Chris' Godess cat on his computer : Try to send her some e-mails…:)
By The Way : if you live in Australia, don't forget Ed Kuepper's next tour with The Laughing Clowns from Januray 21th to 26th in Melbourne, Brisbane and Sydney, sharing the bill with Warren Ellis and his Dirty Three!!