22/10/07 A Meltingweekend with the Bon Scott Celebration Concert' CD's launch at Perth, Rose Tattoo Australian tour's last show at Brisbane and…Godard at Marseille !!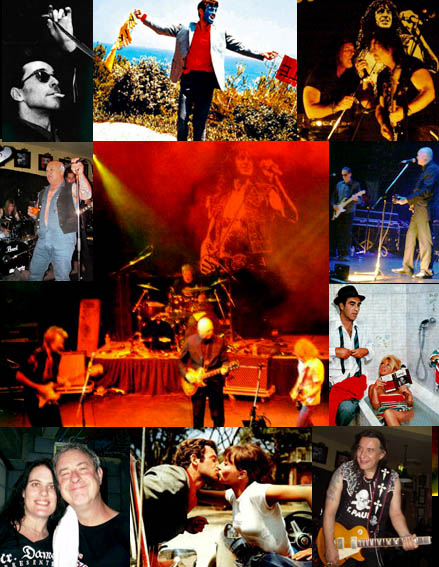 pics from Clair at Perth (Dave Evans and Randell Waller; Rick and John Brewster; The Party Boys with Kevin Borich, John Brewster, Buzz Bidstrup and Alan Lancaster; Clair and Buzz) Grant at Brisbane (Angry Anderson and Paul DeMarco; Mick Cocks) and some Godard's fans on the internet (Jean-Luc Godard portrait; pics from his movies : Pierrot le Fou and le Mépris).
My friends, Clair who had the luck to go to the Bon Scott Celebration Concert's Cd's launch at Perth October 19th and Grant who was enough lucky on his side to see Rose Tattoo at the Hard Rock Cafe at Brisbane October 20th, shared instantly with me the pics from their show (Thanks Clair to offer me this cool pic with Buzz !! toooo cute !!)…
What could I do on my side at Marseille Sunday 21th to forget the frustration ?…to answer positively to a friend of mine FamFinale de la Matière who proposed to me to go to the theater La Minoterie (my second home a few years ago I was very happy to see again) and watch…a rarity from Jean-Luc Godard my favorite French films maker !! a giant movie 5 hours long !!! which is modestly called : History (ies) of the Cinema !!!
What a fun to share with around 100 hards fans this incredible kaleidoscope : a true artistic and political manifesto…very Frenchy but hey ! Godard's world is a part of my own selective memory : Wenders, Fellini, Bunuel, Cassavettes, Picasso, Gauguin, Baudelaire, Oscar Wilde, Leo Ferré…we were literaly bombed during 5 hours with somptuous pictures and brilliant words…not sure that someone will find the courage to adapt this movie in English one day but it will be interesting to share this treasure with the world too.
Back home I had this idea to show you in this quick Meltingpics my own kaleidoscope of the week end, from Australia to Marseille !! Enjoy !
Grant sent me also a spontaneous review from his show with the Tatts :…
"Indy weekend on the Gold Coast is a time where fans of motorsport come together to experience hi-octane racing. Weather it be the Indy cars or the classic head to head of Australian V8 cars, Holden versus Ford. When the action of the days activities has come to an end, the party continues on into the night and early hours of the morning. Last night at the Hard Rock Cafe was no exception, with legendary Aussie rock group Rose Tattoo and support from The Rich and Famous (ex Kings of the Sun) thrilled and entertained a packed room The Rich and Famous opened the night with their set of new music from their new CD Stand Back. Prepare to Be Amazed (which was released last month at the venue), they were the perfect choice to get the crowd going in preperation for The Tatts. They played for an hour and after a 35 minute break, the moment had arrived. It was Rose Tattoo's turn to play, the first to step on the stage was Paul DeMarco (drums),closely followed by Dai Pritchard (guitar), Geordie Leach (bass) and Mick Cocks (guitar). When the band had got themselves organised, Angry Anderson entered onto the stage, the crowd went wild and the band was complete and this was the start of the night. The boys sung classic tracks such as Bad Boy For Love, Rock n Roll is King, Assult & Battery, Rock n Roll Outlaw and new song from the new CD Blood Brothers, Black Eyed Bruiser which is a cover song of another Aussie legend Stevie Wright (ex Easybeats). The Tatts played for about 80 minutes and because Angry was still trying to overcome the effects of the flu, the band were unable to perform the 3 song encore, the only down side to the night."



photo montage I did from Brenda's pics. Thanks for sending them.