Mercredi, janvier 16th, 2008

Standard Podcast:
Play Now
|
Play in Popup
|
Download
To listen to the podcast (mp3 20′)
click on the icon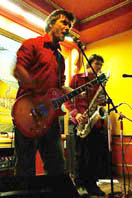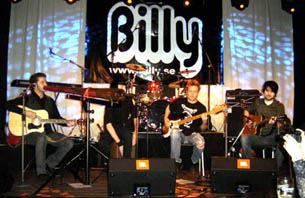 CaVe CaNeM (Fred & Julien) Lars Wallin & his live band (ph. bands websites)
At least fresh news from the rock bands at Marseille after a whole year speaking only about Australia !! I know a lot of listeners found my choice not well-balanced so this year 2008 I will try to honour my reputation of the first French-Australian rock podcast but I will try to record more live shows in my town or around the world who knows ?
In this podcast we start with CaVe CaNeM a new band from Marseille with Fred De Benedetti (guitar vocals) and Julien Lemonnier (tenor sax vocals), both programming their computer (the third member on stage !!) with two songs : "Chez les parents de Cécile" and Fast car". I got their promo album after their live incredible show at the machine à coudre last Friday; they recorded it in one day, at the first take : everything is "home made" !!!
The way I love the music and the musicians !!
You can order their first 6 songs at : cavecanemprod(at)yahoo.fr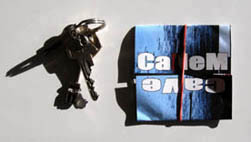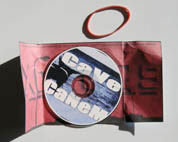 CaVe CaNeM's promo album : self-made by cavecanemprod !!
Through the same way Yolka another new band from Marseille is writting and recording song by song (they got two) at home with Pascal Ferrari at the guitar (+ computer) and Karolina at the vocals (in Polish); I played their last song Zima and I can't wait to listen to the new ones !
Then Lars Wallin from Udevalla-Sweden who just released his first album "Bangardi Pogo": I chose his song "On the road to Maningrida"…a road I hope to take one day myself (with him ?) in the Northern Territories in Australia to meet his aboriginal friends. He recorded the album at the first take too in 6 hours + a little bit bass, guitar, handclaps and cajun drum added in the studio at the end. Emotion guaranteed !
Then "Dune Messiah" : a song from Buffalo a famous Australian band from the seventies with Dave Tice at the vocals, John Baxter at the guitar, Pete Wells at the bass (who later formed Rose Tattoo) and Jimmy Economou on the drums; you could find it in their album released in 74 freshly called : "Only want you for your body" !!
Thanks to Michael from "Sittin in a bar in Adelaïde" for his greetings to me from Australia with the Angels (John Brewster and Chris Bailey) !!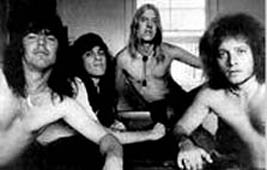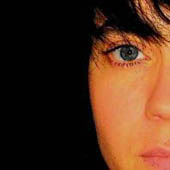 Buffalo in 74 (Left to Right : Dave Tice, Pete Wells, John Baxter and Jimmy Economou) Yolka (ph : bands websites)
BTW : More about Pascal Ferrari in THIS PODCAST I recorded with him in May 2005 as well about Lars Wallin with THAT PODCAST recorded in November 2005 and you could also find Fred De Benedetti with his other band Kill the thrill in THIS PODCAST recorded in June 2005 : you could follow the evolution of these musicians and my progress in English…:)
A last word : Don't hesitate to SUPPORT THE INDEPENDANT MUSIC/PODCAST IN SELF PRODUCTION !! It's our future !!
Meltingpod Connections :
Update January 21th : TRUST is announcing a FRENCH TOUR 2008 with 17 shows and more to be confirmed soon !!
Podcast Info : Here is Dave Tice's e-mail about the song Dune Messiah :
Hi Annie,
I've attached an MP3 of 'Dune Messiah' hope you get it OK.
The song is inspired by Frank Herbert's book of the same name, … (more…)