Jeudi, mai 29th, 2008

Standard Podcast [33:42m]:
Play Now
|
Play in Popup
|
Download
At least I met ED KUEPPER in person at Berlin and he offered me the possibility to record his both soundchecks and live shows May 21th and 22th…alone with him, his drummer Jeffrey Wegener and the sound engineer in the Tempodrom the biggest venue at Berlin and a few hours later packed with 3500 people : I really loved the intimacy of the soundchecks but the shows were very exciting too and good !!!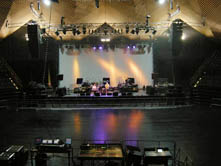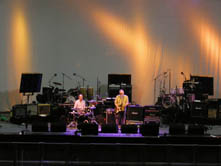 Alone in the Tempodrom at Berlin with Ed Kuepper and Jeffrey Wegener at the soundcheck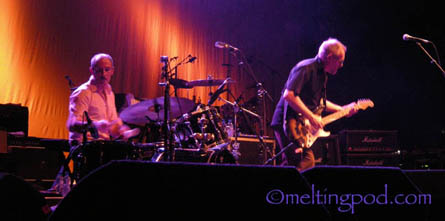 Ed and Jeffrey playing live in front of 3500 people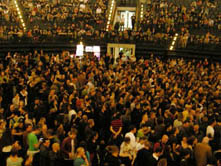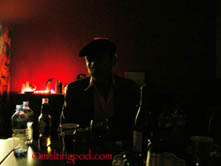 The crowd at the break in the Tempodrom; Jeffrey at the break in the dressing room ! (click to enlarge the pics)
The second day in the afternoon I recorded one hour interview with Ed Kuepper in the Tiergarten a wonderful park in the middle of Berlin : my idea was to approach his musical evolution during 35 years.
In this podcast part one we started at Brême-Germany where Ed was born, then his childhood in Australia and his beginning with the "second band" : "Kid Galahad and the Eternals aka the Saints"…be patient : a small ridiculous little wind wasted the five first minutes of the recording but fortunately I detected it. I illustrate the interview with some of my live recordings at the soundcheck with : "When I first came to this land, Rainy night, Honey steel's gold, The way I made you feel" + an unexpected cover from Skip James "Cypress Grove Blues" by Ed and Jeffrey + a cover I chose from the Troggs "I want you" by the Streetwalkin' Cheetahs featuring Wayne Kramer to illustrate Ed's talk about this first song they played with Chris and Ivor at their high school party…+ a short interview with Jeffrey at the end recorded after the second show : he even sang me a song…:)
Ed Kuepper's European Tour's last dates with Nick Cave and the Bad Seeds :
May 30 2008 8:00P Villa Solaria Florence
May 31 2008 8:00P Vila Fidelia Perugia
Jun 1 2008 8:00P Tendastrisce Rome
Jun 3 2008 8:00P IN Music Festival Zagreb
Jun 4 2008 8:00P Arena Belgrade
Jun 6 2008 8:00P Moni Lazariston Salonika
Jun 7 2008 8:00P Lycabetus Theatre Athens
Jun 9 2008 8:00P Olympia Paris