7/10/07 Meltingpod and the Aussie boys : a long love rock story now !!
Aussierock.com.au is a new website introducing all the Aussie hard rock bands who played the Bon Scott Celebration Concert in February 2007 : you could find there a lot of information about the bands, live photos, extracts of live videos (including the Angels band : Marseille and Am I ever gonna see your face again, Rose Tattoo : Man about town, The Party Boys with Dave Evans (AC/DC's first singer) : Baby please don't go and more…+ the possibility to order the CD from the concert which will be launched with a great rock show October 19th 2007 at Perth (The Metro) with the Angels band, the Party Boys including two AC/DC's ex-members Dave Evans and Mark Evans, AC/DC tribute bands 21 Guns and Hell Bells ! Another show is scheduled October 21 th at Claremont with the Angels and 21 Guns.
Check them on myspace.com/aussierockconcert too !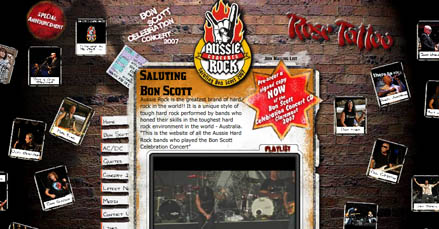 Sometimes I have the feeling I live myself in Australia (a lot of people think that too !!) and I ask myself if Meltingpod is not becoming an Australian rock podcast !!! I know there are many months I only spoke about them, I try to resist to the attraction but they are too charming…look how these Aussie rockers are elegant and gallant to give me now the first place above such famous bands on their links page !!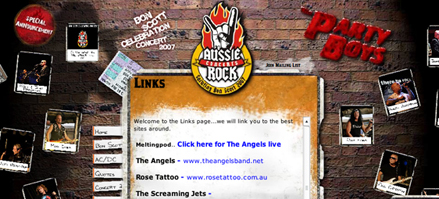 What can I do ?… I will try to stay an authentic woman from Marseille giving news from my town but I think the direction is taken to integrate regurlarly the Australian rock news in my blog and podcasts with the help of so many Australian listeners and Meltingpod's friends. I hope you will appreciate it. If not let me know.
So some news about the Angels band who always want to come to Marseille (you can click on the link to ask them in your town too) and a nice pic sent by Dave Evans himself at one of his last show in Texas !
Meltingpod Connections Update October 10th
Today I thought I need to live again in my town, not only through the internet most of the time in Australia and who is coming to Marseille tonight ?? Steve Tallis a musician from Perth Western Australia !!! He is playing at l'Intermédiaire (Place Jean Jaurès) around 10:30 pm; I "met" Steve one year ago on myspace and if he is here today it's not a real coincidence as you can imagine…:) If you live in the town come to the show !!! Steve is fantastic !!And I spoke again about Australia…:)