28/05/07 More about The Saints !!
For those of you who wrote to me to know more about The Saints :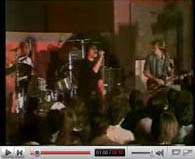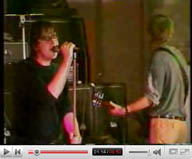 The Saints Live at Paddington Town Hall in 1977 with "Demolition Girl"and "Night in Venice" (click on the pics to watch the video). Three of the four members from this original line-up : Ivor Hay (drums) Chris Bailey (vocals) Ed Kuepper (guitar) are performing for a one off reunion July 14th 2007 at Brisbane for the Pig City Queensland Music festival.
You can listen to The Saints in many podcasts on Meltingpod with :
The Saints' current line-up - Chris Bailey (vocals, guitar), Peter Wilkinson (drums) and Caspar Wijnberg (bass) :
07/12/05 Noisy Holidays in Hell with the Saints (THE live interview/show)
04/09/05 Eating Earth and drinking Fire (my very first live interview for Meltingpod with Chris Bailey at The Saints' show at Marseille : 5 minutes !!)
04/07/05 Burning Bush Tour (The Saints' live pics at Marseille)
Lars Wallin musician, Saints' fan and Meltingpod's faithful listener :
09/19/06 Chris Bailey in Sweden with Lars Wallin (videos from Lars)
11/21/05 The Aborigines love punk and roll (+ Saints' songs)
Different subjects illustrated with the Saints' or Chris Bailey'songs :
01/26/06 Oscar Wilde and me (recorded on Oscar Wilde's grave at Paris)
08/25/05 Oscar Wilde, Agape and the indecente theology
07/18/05 The Saints from Tokyo to Nashville (festival + Saints' live songs)
Meltingpod Connections :
Update May 30th : THE SAINTS' BIO IN FRENCH !! by Eric Tessier - Radio Libertaire - Nef des Fous Editeur : the text is well written, funny and passionated ! Bravo Eric !!
Update May 31 th : OK, here a link to some Saints' lyrics !!!…"you look so good that I could eat you but I wouldn't kiss a steak so I won't eat you"…so another version from Hannibal Lecter's dreams…:)