#83 The Angels reunited and on the road again : Interview with Buzz Bidstrup about this reunion with Doc Neeson, their Australia tour 2008, the Bon Scott Celebration Concert, the Jimmy Little Foundation and more…

Standard Podcast [48:10m]:
Play Now
|
Play in Popup
|
Download
THE ANGELS are touring Australia right now with ALL the original members : Chris Bailey (bass), Buzz Bidstrup (drums), John and Rick Brewster (guitars) and Doc Neeson (vocals).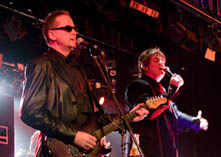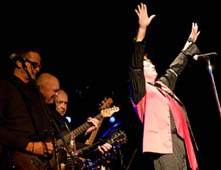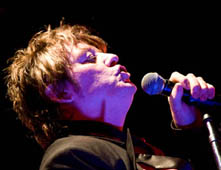 The Angels during their Australian tour 2008 (pics from Craig Peihopa sent by Cat Swinton : thank you !)
I recorded that interview with Buzz in May and we spoke about many things (it was such a long time !!) : from the Aussie Rock Celebration Concert - Unveiling the Statue of Bon Scott 2008, to the Sorry Day, the Jimmy Little Foundation, the arrival of a new government in Australia, the long way to reunite the Angels again, the new release of "Face to face" for the tour, the performances' concept (we even spoke about Ed Kuepper !!), the ideas to play oversea and…Marseille !!
I played a lot of famous songs excerpts to illustrate this friendly conversation : "I can't shake it, Waiting for the world, No exit, Out of the blues, Long Line, Marseille !!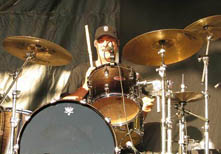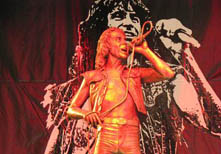 Buzz organizer at the Bon Scott Concert 2008, drummer with the original Angels band and the Party Boys ! Bon Scott's statue (pics Errol Laggner).
Meltingpod Connections
If you want to hear and read my first connection with the Angels, check my first true podcast in March 2005 with Buzz's first e-mail who reacted on Meltingpod !!! This podcast was in fact just a joke to reply to my friend Michael Butler who lauched the Rock and Roll Geek Show from San Francisco a few months before…who knew at that moment (where I couldn't say one word in English !!) it could lead me to such a long trip…:)
I ranged in the category section of this blog under "the Angels (aka Angels city) all my reviews or podcasts about or with the Angels' interviews or songs for more than three years now.
At least and again this nice little video sent by a fan Grant from the Goldcoast in May 2007 with Buzz playing drums but without the sound…:)