Lars Wallin and The Tribelars from Sweden Live at Enthropy : the Vikings invaded Marseille !!
Lars Wallin and The Tribelars toured South of France at the end of September and played in Marseille at Enthropy a folk music with a punk spirit accompagned with traditional instruments from the Australian aboriginal people like the didgeridoo : strange no ?
In fact I knew Lars Wallin since 5 years but just through a friendly regular emailing and a podcast-interview I did with him on the phone in November 2005 called "The Aborigines love punk and roll" around our common passions : the music, The Saints and Australia !! So thank to Well Done who booked the show at Enthröpy and who allowed this first meeting in person around his music Live !!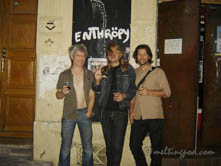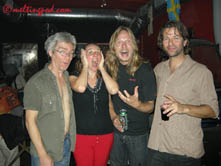 Lars Wallin (on the right : guitar, didgeridoo, vocals) and The Tribelars (Peter Hansson in the middle at the bass and backing vocals, Thorolf Andersson on the percussion) in front of the venue Enthröpy, then inside scarrying the girls from Marseille…:) (click to enlarge).

a video clip to give you a very short idea of the show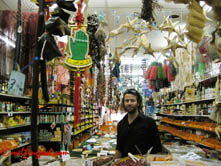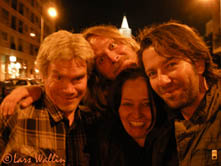 I was sure I could impress Lars the globetrotter with a visit to the shops in Noailles a very exotic area from Marseille; the wild vikings around me before they left Marseille back to Sweden.

Lars Wallin and The Tribelars Live in my bed with Beautiful People…:)