10/10/10 Le Grand Emmenagement de Generik Vapeur : the French street theater company left the ex Abattoirs for the new Street Arts City in Marseille !
Generik Vapeur the famous French street theater company from Marseille left the ex-Abatttoirs based in the old industrial area St Louis the 10/10/10 a symbolic date for a symbolic move with all the family, friends and fans who accompagned them to their new place : The Street Arts City erected in another old industrial area in Marseille, Les Aygualades.
It was hard to leave the old Abattoirs which was the theater's stage of such fabulous events and stories, artistic or humans, full of poetry and passion during 20 years !!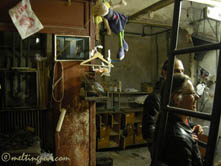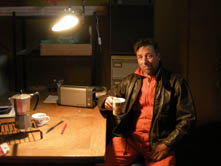 Karine De Barbarin on the left picture, Bruno Montlahuc on the right picture : two Generiks who were there in 89 when the company started the adventure in the Abattoirs…between smiles and strong emotion just before the departure…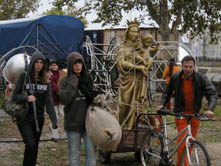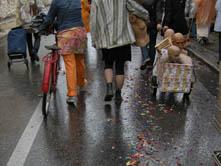 Everybody took a bag or an object and moved out towards the new place, under the rain…abandoning a few colorful feathers on the road…

The spontaneous theater show with the friends happy to become a street actor for a few minutes, one hour, during the time of the move.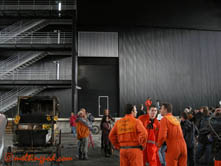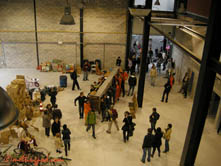 Arrival in front of the new black metal building specially made for them and adapted to their professional needs. The old bar from the Abattoirs took a place in their new spacious hall.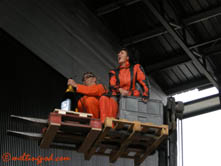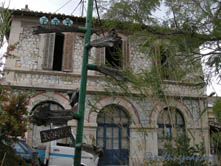 Caty Avram and Pierre Berthelot, both founder members of the company opened a giant Champagne bottle for the guests-workers !! On the right a last thought to the old Generik's head quarters in the ex Abattoirs before taking my car again back home…all these memories which still float around…you could find some of them saved by Sara Vidal (aka Andree Vidal : Generik Vapeur president) in her book : "the ex Abattoirs, an original story" (Publishing Cris Ecrits).
Meltingpod Connections :
A thought to Pierrot Bidon who founded the circus Bidon and then Archaos in the same spirit than Generik and who passed away last March…his shows were pure rock and roll !! Watch it !!