8/11/07 Postcards from friends around the world : Punk attitude at New York, London, Marseille, Berlin and…Australia…and Chicago !!!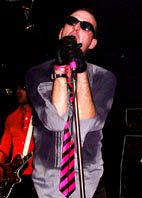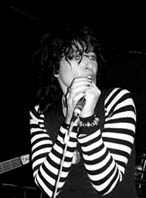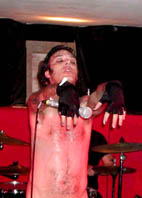 Punk atttitude on stage : Olivier from the Hatepinks and Ingi from the Gee Strings at Marseille last week (my pic from Olivier is old, I still haven't a new digital camera but my friend Luccio the Frog had one and took for me this one from Ingi !) Billy Hopeless from the Black Halos at Nice in 2006. Speaking about that band my friend Adam Becvare (Black Halos' guitarist) played last week at London with the Lords of the New Church again. He sent me a link to a podcast (Yes I know I missed something !!) from THE LORDS LIVE FOR HALLOWEEN HERE !! Thanks Adam for that and (added Nov 9th) for the fine report from "the inside the show" straight ahead from Chicago !! Read it at the end of the review "Meltingpod Connections"!!!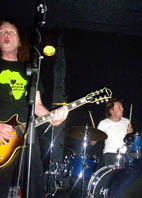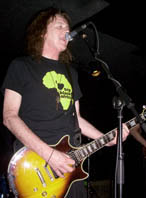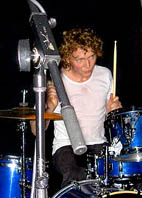 Punk attitude in their mind : The Saints at New York City during their last US tour in November : Chris Bailey and Peter Wilkinson (Caspar Wijnberg in the background) on the pics from Dolly Llama and Marco; thanks you !!
Erratum Nov. 9th from Dolly : "it was in fact the New Jersey show". oups !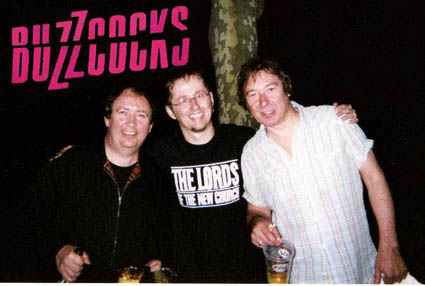 Punk history : Buzzcocks Pete Shelley and Steve Diggle around my friend Luccio the Frog after a show in France 2006.
This picture I found in Luccio's pics' album remembers me one of my funniest podcaster's memory !!! So here is a kind of punk story : Pete Shelley and Steve Diggle were my anonymous neighbours in a plane during three hours flying to Berlin in May 2006 …I just asked him politely where they were coming from when I sat down near Steve, crushed in a full up Boeing; he answered very shortly : "London !" Pete friendly added : "and you ? ah ! Marseille, nice city !" That was all for one hour…I was tired and almost asleep on Steve's shoulder until I saw his tattoo on his arm : "Hey the Saint on your tattoo ! I did an interview with them"; Steve : "which one ? Roger Moore ?" Me : "Euh ! No ! Chris Bailey !" Steve : "ah ! the Saintsssss, I'm Stranded ! hey Pete she interviewed Chris Bailey from the Saints !" Pete : "ah ! yes ! I'm Stranded !" and nothing more for one hour, we were the three almost asleep until we were flying above Berlin. Suddently I heard the air hostess asking them what they were doing at Berlin; answer : "we're a rock band and we are touring Europe !". I thought a rock band touring in a plane ? strange, but I plugged my microphone with a podcaster's instinct; they asked me : "oh ! an interview ?" Me : "No, just say your name, the name of your band and you are listening to Meltingpod " the rest in on MY BERLINER PUNK PODCAST…ahaha ! At the airport Steve took a photo from me and someone in the band told me : "hey, Annie, you will become famous with that picture" ! I said goodbye with laughing. Nice story ?…:)


Punk video from Australia : My friend Robert James from GANGgajang with his other band JJ's Way : Give the people what they want !! Everything…NOW !
Meltingpod Connections : Update November 15th
Have a look on my last pics and a listen to this very funny PODCAST INTERVIEW with JEAN-LOUIS COSTES an incredible French rocker who performs trash theater shows. I met him at Marseille last week just after he finished to play his last 50 minutes show "Little birds shit" and he made directly after that a second 40 minutes show just for MELTINGTALKS !!!
Update November 11th : Saints anedoctes during their New Jersey show sent by Dolly Llama in the comments section…happy Birthday Peter !!…:)
Update Nov. 9th : Fresh report about the Lords of the New Church show at London October 31th by Adam Becvare back to Chicago : Enjoy ! (more about Adam with an interview in April 2006 HERE on MELTINGPOD)
Hi Annie, Here's my Lords report for you


THE LORDS of the NEW CHURCH '007-
2 rehearsals and a fistful of Chaos!!
Insert Guinness and add Bordeaux HERE. This is what it is like to be a Lord again and it fits me just like a warm glove.
Much has changed in the New Church since June 2003 and I've never seen Brian James happier…
Upon my arrival to London, it was learned that former Lords keyboardist Mark Taylor would be unable to join us due to personal illness.
Once again this altered the already altered setlist for the Lords Halloween 100club show in London.
It was a great pleasure for me to perform such Lords rarities to a room full of close Lords friends some dating back 25 years.
Songs like "Bumping in the Night" and "Mindwarp" had been unearthed since '88 while others like "Bad Timing" and "Pretty Baby Scream" go back even further.
Brian was really on fire as his impossibly loud Tele melted the grinning faces all cheerin us on and loving it all.
Dave was his usual stellar self. The man really is a complete rock n roll Automaton.
On the Kit this round was Brian James Gang new blood, Toby reeling Brian's antics in.
Afterwards, I was greeted by so many fans, friends and longtime comrades such as The Godfathers whom expressed their complete delight in the nights offerings.
Expect much more to come from these LORDS in your dreams and nightmares.
In Stiv We Trust.