26/08/06 Perth-Marseille Connection !
Wouahouh!!!! Thanks to John from Perth-Australia, singer and bass guitarist in Open Wound who sent me this morning this fabulous link to the Saints' video with Chris Bailey singing "I'm Stranded" at his debut in 1976….as wrote the poster on youtube : "This video cuts short by about 5 seconds at the end but I'm sure any Saints fan will be more than happy with the video anyways". Hey, the Meltingpod-Saints' fans : COME ON!!!
I watched during my last holidays a 4 hours film with a lot of interviews from the earliest most famous punk rock bands around the planet "Punk atttitude" by Don Letts with the Sex Pixtols, The Clash, Buzzcocks…a DVD offered by my friend Markus after my Buzzcocks'meeting in the plane flying to Berlin !!…a total pleasure but without mentioning the Saints it was for me a shock and a big deception. The Saints are soooo goood ! Right ?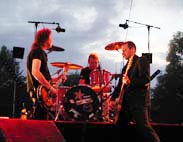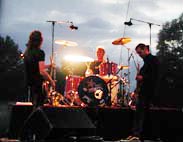 The Saints in France in July 2005 at the festival Oulala