21/11/05 New : Meltingtalks N°1 !!
Click on the icon to listen to the mp3


Warning : Only Meltingpod connections interviews with people from 12 different countries of Europe…they were in Marseille last week to launch a European network cooperative "BLINC (Blended Learning Institutions Cooperative)", Eurocircle's friends…it means friends of mine who organized the meeting…I love music and specially rock and roll, but I love with the same energy to feel myself connected with the whole world in one unique place . I did spontaneous interviews with strangers for me : who are you ? what are you doing here ? …funny experience and I had the surprise to meet people very involved to improve our society…I'll post next time the whole interviews with Claudia from Portugal, Adela from Romania, Hanife from Turkey : nice passionated women !!
I hope you will follow me in this new adventure (how do you say "aphrodisiac in your country ? hey !)…For those of you who only loves rock and roll…in a few days, I will post a rock podcast as usual, don't worry…But you must accept the terrible reality : I AM A MELTINGPOD !! Come on !
Music : Marseille from the Angels (live album 2005).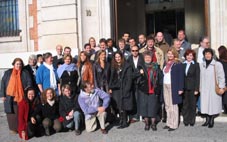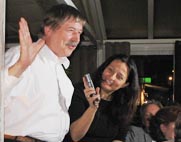 The BLINC band ! I'm recording an interesting meltingtalk…at the dinner.
Happy Thanksgiving to our American friends ! Thanks to the BMI and ASCAP to let us playing for free on our podcasts the music of the US bands who registered their copyrights there (if we have the permission of the artists and their labels). In France, we can only sing : SACEM, we are not criminals!