Podcast 103 Live interview with Mick Harvey in Paris 2010 : some reasons to have left the band Nick Cave and The Bad Seeds…Part 2 (25′)

Standard Podcast [24:00m]:
Play Now
|
Play in Popup
|
Download
In this second part of the interview Mick Harvey explained us some of the strongest reasons he had to leave the band Nick Cave and The Bad Seeds after having formed it with Nick in 1983. It's always hard to hear the break of such a long time collaboration (35 years with Nick) and I was not prepared to hear it but Mick's talk is sincere, entire and without compromise : I hope you will appreciate it.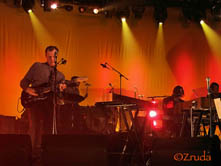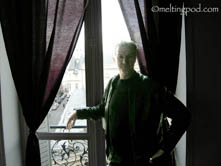 Mick Harvey with The Bad Seeds during their European tour 2008 (Thomas, Conway and Marty in the background; pic Zruda); Mick in Paris before the interview.
I chose just one song from Mick's band "The Wallbangers" to start and finish the podcast : "The World keeps spinning around" because I didn't want to interrupt his intense 15 minutes talk.
But Mick will give us a nice present with playing Live at the end of the interview an unreleased version of PJ Harvey's song : "Glorius"!!! Thanks again Mick !!
Meltingpod connections :
For info there are some comments posted about that interview by fans of the band on Nick Cave and The Bad Seeds forum.
Oh ! I just found someone who translated part of Mick's talk in a text and spread my podcasts too, here on a website called Nick Cave fixes"!! with other reactions to the interview.