Podcast 100 Interview with Chris Bailey from The Saints : Projects 2010 Part 1 !!

Standard Podcast [41:30m]:
Play Now
|
Play in Popup
|
Download
For my podcast N°100 I chose to call my very first guest on Meltingod Chris Bailey from The Saints !!
He played for me his favorite song on the phone and shared with us his ideas and projects for 2010, alone or with different people, with The Saints and who knows : maybe with his first music partner Ed Kuepper ?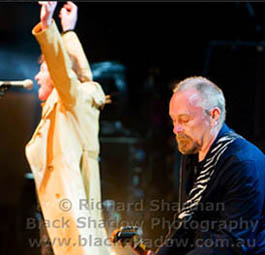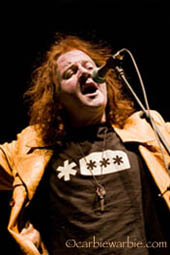 Chris Bailey and Ed Kuepper with The Saints at ATP in Australia in January 2009 (pics : Richard Sharman and Carbie Warbie)
I illustrated the interview with some nice songs from The Saints at different periods : two fabulous Live versions of Nights in Venice and The Chameleon recorded with the original line up (Ed, Ivor with Caspar and a horn section) at Pig City in 2007 (a live album is released !!), Simple Love (in 81 with Barrington Francis at the guitar, Janine Hall at the bass, Mark Birmingham on the drums) Demolition girl (Live at Paddingtown Hall in 77) I'm misunderstood (The International Robot sessions in 77).
Stay in touch for more in the part 2 on line soon !