Happy New Year 2009 with great rock news : The original Saints and Laughing Clowns reform at All Tomorrow's parties festival in Australia in January thanks to Nick Cave and the Bad Seeds !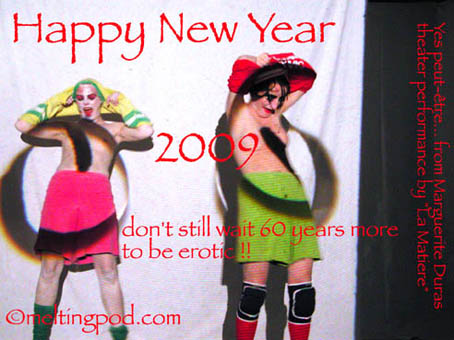 My best wishes to you from a pic I took during "Yes, peut-être" written by Marguerite Duras performed by my friends Kinou and Pascale from "La Matière" at l'Embobineuse at Marseille…Thanks for all your Christmas/New Year's wishes sent on myspace/meltingpod !!
"69…année érotique" (69…erotic year) wrote Gainsbourg for his sensual partner Jane Birkin…"2009…année érotique" could be sung as well this year (in French) and such a lovely thought could protect us with pink glasses against all the black news we are expecting in the next days and months : massacre in Palestine (NO ! there is not self-defence when soldiers kill the babies in their mothers' arms !!), more wars, more unemployed and homeless people after the Stock Exchange's world crisis, more and more often the observation of the non-respect of the human rights and the press' freedom…difficult to stay outside the society and just to speak about rock and roll but…anyway you're here for that, so…
GREAT ROCK NEWS for my Australian listeners and readers if you still didn't check the ATP or All Tomorrow's Parties' festival's site : in a few days, from January 9th exactly, inside an impressive musical programme…
two of ED KUEPPER' s old bands are reforming with the original members to play there at the invitation of curators NICK CAVE AND THE BAD SEEDS :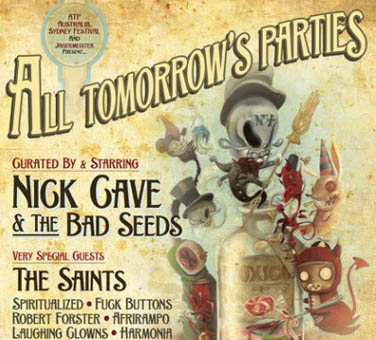 THE SAINTS with founding members Chris Bailey (vocals), Ed Kuepper (guitar) and Ivor Hay (drums) + Archie Larizza (bass) and a three piece horn section, they will bring you 5 times to their Paradise :
9th Jan at Mt Buller Victoria and 17th and 18th Jan at Sydney (Cockatoo Island) during the ATP festival
14th Jan at Melbourne and 15th Jan at Brisbane for two ATP besideshows where The Saints will perform their whole first album "I'm Stranded" !!!
BTW : X (founded by Ian Rilen) will open the Melbourne show with performing their whole album "At home with you"!!
and…
LAUGHING CLOWNS with Ed Kuepper (guitar and vocals) Jeffrey Wegener (drums) Louise Elliott (sax) and Leslie Millar (upright bass), they will do their first return on stage since 1984 with 4 shows :
10th Jan at at Mt Buller Victoria and 17th and 18th Jan at Sydney (Cockatoo Island) during the ATP festival (3 hours before the Saints' show !! Go Ed !!)
and 23th Jan at Brisbane (outside the ATP festival)
PS : I will publish new podcasts as soon as the flu's bad virus which catched me from Christmas will let my ears and voice free again…it's Winter and cold here !
Meltingpod Connections : Update January 10th : THE SAINTS are giving another show with NICK CAVE AND THE BAD SEEDS at Mona Foma festival at Hobart in Tasmania Januray 12th !!
Update January 7th 2009…when I told you…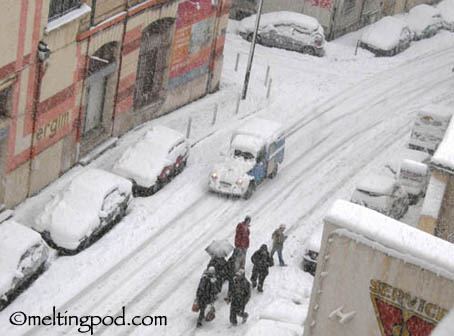 it's Winter at Marseille city !! more pics on MELTINGTALKS !!