#82 Ed Kuepper LIVE at l'Olympia Paris and at the Tempodrom Berlin : Interview (part3) in the Tiergarten during his European tour 2008 with Nick Cave and the Bad Seeds

Standard Podcast [30:45m]:
Play Now
|
Play in Popup
|
Download
I start this podcast with ED KUEPPER opening his show at l'Olympia June 9th at Paris with one my favorite song "the way I made you feel"!!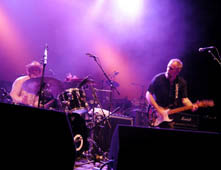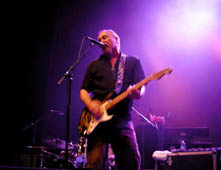 Ed Kuepper and Jeffrey Wegener during their show at l'Olympia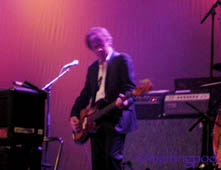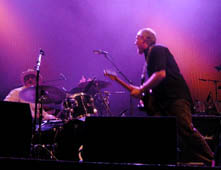 Martyn P.Casey from the Bad Seeds joining Ed and Jeffrey on stage
That concert closed his 3 weeks long european tour with Nick Cave and the Bad Seeds with some great moments : Martyn P. Casey and Warren Ellis (the violonist and bass guitarist from the Bad Seeds) joined Ed and Jeffrey on stage for an unforgettable version from Eternally yours (videos clips soon : stay connected !!).; at the end of Nick Cave' s show Ed and Jeffrey joined the Bad Seeds…Paris was lucky and me too !!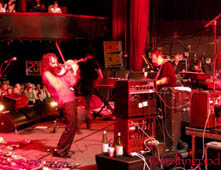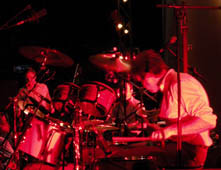 For the last song a big jam : Ed Kuepper, Warren Ellis (violin) and Nick Cave (back on the piano); the three drummers together : Thomas Wydler, Jeffrey Wegener and Jim Sclavunos !!
We continued the interview (part 3) in a very quiet, peaceful and intimate garden with flowers we found out walking in the Tiergarten at Berlin without a precise idea of the North…in fact a place for confidences and Ed spoke about his temporary blockage to write any song or play live after producing 12 (or 15 ?) albums between 1990 and 1997 , how he started again and his new approach of the music now !!
In that podcast I played "Horse under water" recorded during the show at the Tempodrom, "Rainy night" and Everything I got belongs to you" recorded during the soundcheck at l'Olympia…Ed tested all the time new versions with Jeffrey and it's really an endless pleasure…:)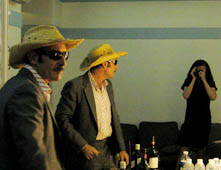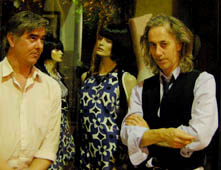 Some relaxing moments with Jeffrey in the dressing room at l'Olympia, with the Bad Seeds in the street at Paris (Matt Crosby the sound engineer and Conway Savage the pianist) !!
There will be a part 4 proposing a new interview recorded with Ed at l'Olympia and my friend Eric Tessier who hosts the bi-weekly rock show "Place aux fous musique" from Radio Libertaire, a national French radio spread by the Anarchist Federation (simultaneously translated in French); the podcast will be published after he will air the show July 25th…here I just played an extract with some great news about Ed's projects for the second part of 2008 !! We couldn't wait to share that with you !!
Meltingpod Connections
Update June 25th : interesting interviews with Ed (in 2002 to 2005) on that site at "Tarentula!" by Christopher Hollow.