#74 ED KUEPPER's interview about his new album 2007 Jean Lee and the yellow dog Part 1

Standard Podcast:
Play Now
|
Play in Popup
|
Download
To listen to the interview with Ed Kuepper part 1 (mp3 30′)
click on the icon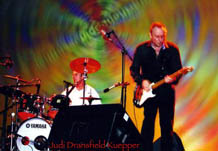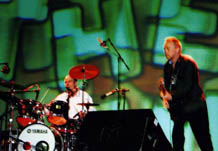 Ed Kuepper with the Kowalski Collective in Oct/Nov 2007 (live pics from Judi Dransfield Kuepper)
ED KUEPPER's interview about his new album : Jean Lee and the yellow dog at least on Meltingpod !!! Which best present for Christmas could I offer to you ? Ed really took the time to enter in the details of the whole music process during this new album's conception and why he chose to relate this true story about Jean Lee a prostitute who was the first woman hang in Australia in 1951 ! As always Ed is very sincere and precise and I couldn't cut anything in his talk. So I proposed to you to listen to that podcast in two parts of 30 mn ! I hope you will appreciate to share with us this interesting conversation, specially those of you who love Ed Kuepper and THE SAINTS : Ed Kuepper formed the Saints with Chris Bailey in the 70's before starting a long solo carrier until now with sometimes live bands to perform some shows. Right now he is playing with the Kowalski Collective including two long time partners like Jeffrey Wegener on the drums and Peter Oxley at the bass. I played a lot of the album 's excerpts to illustrate the talk, including Chris Bailey 's great appearance in one of these songs !!
So MERRY CHRISTMAS to you all on MELTINGPOD !!