#70 Rose Tattoo European Tour 2007 : Live interview with the singer Angry Anderson - Part 3 New and old culturs, aborigines around the world
To listen to the interview with Angry Anderson Part 3 (mp3 : 35 minutes)
click on the icon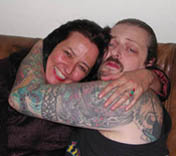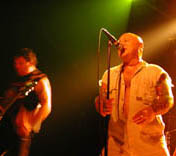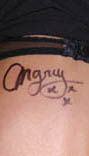 Kingy and me (photo Mick Cocks), Daï and Angry at Lyon, fan's tattoo !!
Pictures sent to me by the Tatts fans : Thank you !!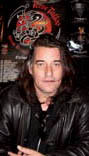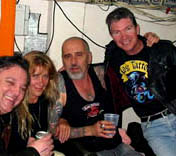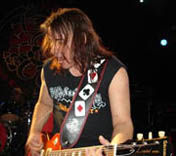 Mick (sent by Eli_Ann, Hamburg), Dave (on the right) with Pete Wells (sent by Dave, Newcastle-Australia), Mick (sent by Stefan, Germany)
Angry Anderson, Rose Tattoo's singer with me backstages at Lyon-France during their last European tour : in this third part of the interview Angry answers to my question about the aboriginal people's issues in the Australian white and modern society; quickly the conversation turns into an universal philosophical exchange of point of views : it was passionating for me, I hope you will like it !!
I played extracts of "Nothing to lose" and "Once in a lifetime" from their last album Blood brothers and "Nice boys don't play rock and roll " Live at at Wacken festival in Germany extracted from a great video you can watch on the Tatts'website.