#63 Meltingpod emigrated to Brazil !!
To listen to this wonderful podcast on the audio file (mp3 : 40 minutes)
click on the icon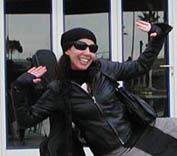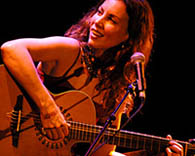 Our meeting at Cassis with Bïa, Bïa singing (pic from her website)
No rock and roll today but you will not regret it I'm sure…
a sensual, delicate voice will take you far away near the Mediterranean in a amazing creek…Ok, the podcast is audio only but imagine :
Bïa, a beautiful Brazilian woman who sings just for you, the waves beat the rocks, the wind slowly blows (in my mic too sorry !!)…I hope after my last podcasts with the Australian hard rock stars you would appreciate her cool and quiet music too : a big challenge I know !! But, come on !!
Between the songs we spoke about her music, lyrics, being a citizen of the world and in the same time you could hear what you maybe never heard about Brazil : why some Brazilian women feel the necessity to learn how to dance with a teacher, how a lot of families emigrated under the military dictatorship who oppressed the country in the 70's.
In the case, you couldn't live without her after listening, you could find her albums on her nice website !