6/04/06 Black halos around the angels
The Black Halos are touring Europe right now, dont' miss them ! I spoke with Billy Hopeless the singer at his arrival one month ago to Manny's house and I plan to see them live next Sunday in Nice, the only date in South of France !! I give you an extract of our conversation (the rest could fall under iTunes'censorship…:) but you can already see some pictures of their show taken by my friend Lars in Sweden.
I played Three sheets to the wind, Third world USA and Studio suffering from their last album "Alive without control".
Update about Buzz Bidstrup (The Angelsband)'s true interview (I cut some details to make a joke for April 1st)…for" the woman show"!!
Click on the icon to listen to the podcast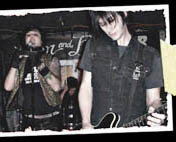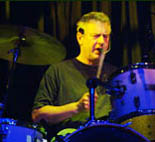 Billy, Billy and Adam Becvare, Buzz (pics from the bands' websites)
Meltingpod Connections :
Update 8/04 : hey, "My French deputy" Frederic Dutoit loves the Rolling Stones and wrote on his blog he is ready to help me doing an interview with Mick Jagger for Meltingpod ! I told you the National Assembly rocks ! In le Havre, the politicians prefer the Beatles !
Update 7/04 : A lot of funny and serious photos about the demonstration anti-CPE in Marseille April 4th on MELTINGTALKS