19/02/06 Blue Movie…
One of Andy Warhol's most strangest films is called "Blue Movie"…my friend Hamster Atomique loves the Angels, the blue and the Dandy Warhols (who love Andy Warhol), ; I love the Angels, the blue and Andy Warhol; the Dandys are not too bad ! Hamster just sent me his new myspace's website's last production : niiiiice ! By the way myspace-meltingpod is full of rock bands "friends" now : check it !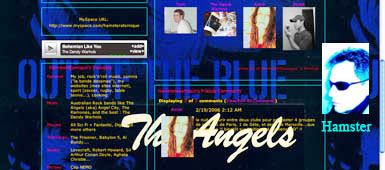 Meltingpod Connections : Thanks to Saskia and her French podcasting community website Podcast premiere who gave Meltingpod and me a nice place under her Spotlight !