8/03/05 Yellow in the night !!!
Incredible but true : the first sounds of the planet Marseille are coming on a podcast with Leda Atomica, Bebe Clandestine (Bea Paradis plays in Sub Rosa now) and the Hatepinks !
I gave up with all sound software, too complicated for me right now; I returned to the basics : raw sounds I give you to hear directly after recording : one time, one file ! no mix, no normalizing; next time it will be better. I hope you like my first short podcast though.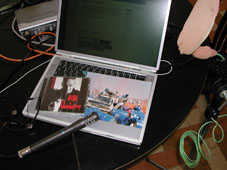 click to enlarge the picture
Téléchargez le fichier en cliquant sur l'icône
Click on the icon to donwload the file.



MP3/ 128 Kbps